Yes, you read the title correctly. This seems to be the year of parthenogenetic Rhac claims; I am about 99% sure a female gargoyle gecko of mine produced an offspring by parthenogenesis.
I purchased a 12g female from Pangea in October 2008. I have already confirmed with Matt that she was kept alone, as all of his juvenile gargoyles are, before she was sold to me. I raised her by herself until June 2010 when I sold her at 32.0g to a coworker of mine in the biology department in which we both worked. I confirmed with him two days ago that Gin was the only gecko he ever owned. A year later he had to move from Texas to Boston and was unable to take her with him, so he returned her to my care, now weighing 42.0g. I also house my nonbreeding gargoyles alone, therefore this female has never been with another gecko. A few months after she returned to me, I found a couple of dried-out dud eggs in her tank, but didn't think anything of it: she was a mature female and they often lay duds.
This is Gin, the female who laid the eggs: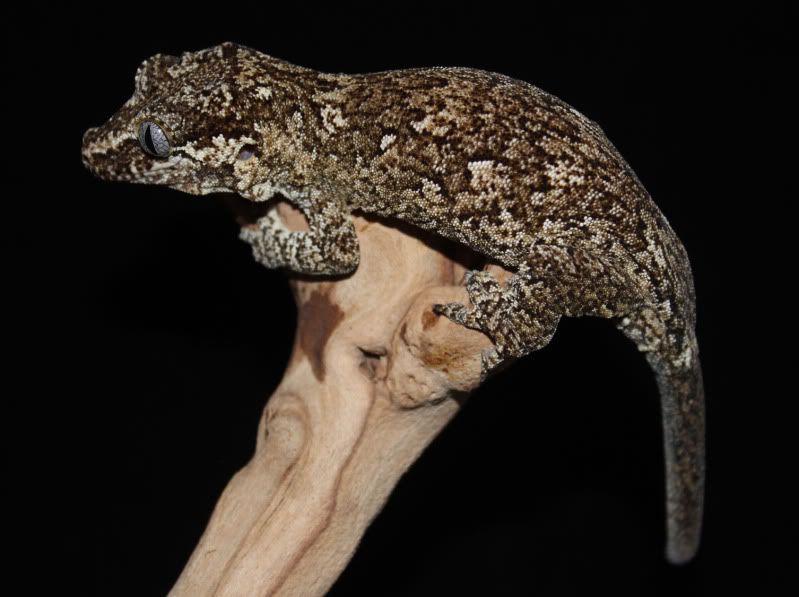 On 4/18/12 I caught Gin digging in her tank. After some searching, I found a beautiful clutch of eggs which to my utmost surprise looked fertile when candeled.
On a whim I decided to incubate the eggs. I use a styrofoam hovabator incubator with the eggs in hatchrite inside of sealed tupperware containers. The incubator is set to 75F.
On 4/26 the clutch looked like this when candeled: vasculature was beginning to grow.
This is the egg that showed the most promise on 6/5/2012:
The clutch in question is the pair of eggs in the top right (also taken on 6/5/2012):
At this point, the egg ceased to develop. The embryo, if there was one, was not getting any larger inside of the egg and the egg was no longer increasing in size as it absorbed water. When 70 days of incubation was reached with no change in two weeks I made the decision to dissect the egg to see what was there, if anything. The second egg of the clutch had only developed a small amount of vasculature, but there was no sign of an embryo.
This picture shows the three eggs Gin has laid so far (the egg to the far left belongs to another female). Gin had laid a second clutch ~45 days after the first one was found, but only one egg looked fertile, I am still incubating that egg.
This is the egg just before we made the first incision. Vasculature is present, but at this point if a viable embryo was in place I would expect for the inside of the egg to be mostly opaque with the baby's body blocking the light:
The following pictures may be too intense for some; please be warned:
After the first incision this is what we found:
I was both elated and saddened: yes, there was a living baby...however, that little pink dot is its heart and meant that the baby was deformed and had no chance of survival. The little one was alive and responsive to touch when it was pulled out of the shell.
There was a very large amount of thick, pasty yolk relative to the embryo: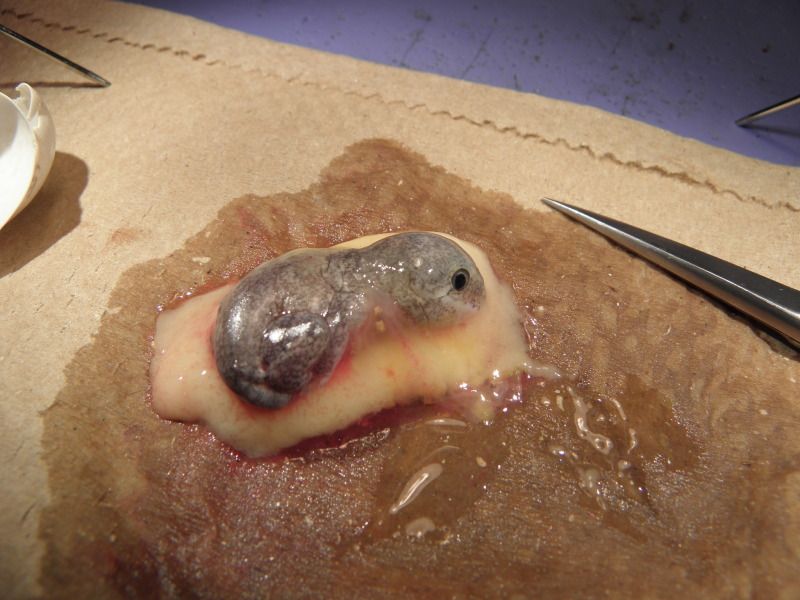 The baby had no outer deformities of the limbs, showing well formed pads and toes but seemed to have a lot of fluid under its skin:
However, the abdominal and chest cavities had failed to close and both the heart and liver were protruding from the body: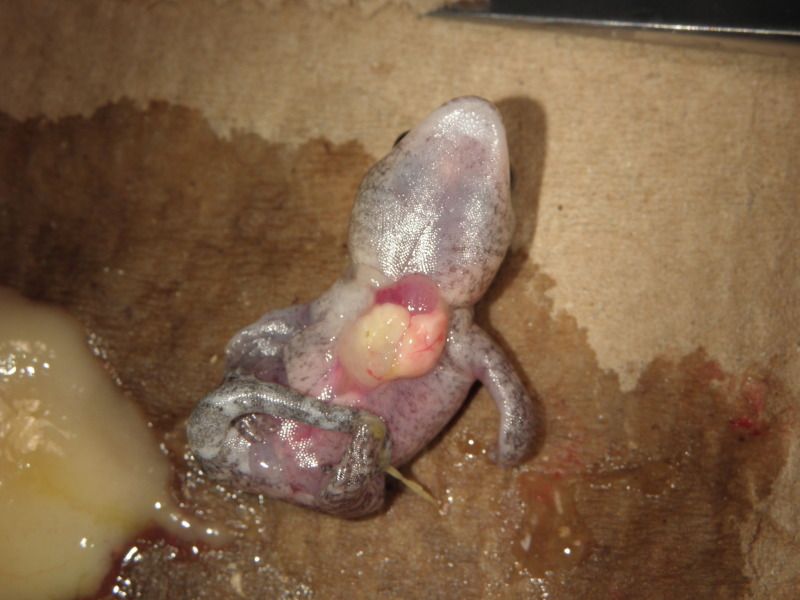 This probably explains why the egg had stopped developing: the liver was beginning to shut down (I think this is what was causing the fluid build up) and further growth and development were stalled. The baby would have persisted in the egg until the yolk was consumed and it ran out of nutrients or until the liver failed causing shutdown of the body systems.
This is a video showing response to touch and the heart beating:
Unfortunately, DNA testing to prove parthenogenesis is not really an option (this has been discussed in some of the other recent parthenogenetic threads). A basic explanation is that because there are so few resources of reptilian genome sequences (especially of gecko species), it would be nearly impossible to isolate a specific region of DNA needed from the mother and offspring that would show relatedness. I have frozen the body of the baby, in hopes that this may be possible in the future, but I am skeptical.
I hope you find this as interesting as I have; it certainly makes you wonder about all of those dud eggs you've been throwing out all these years, doesn't it?? We are finding out more wonderful things about our favorite gecko species as the years go, and I was happy to be involved in this event. Thank you for reading and please let me know if you have any questions.