Chewies never ever cease to amaze me. My P.I girl snapped at me for the first time in months when I went to pick her up today. Yes, it was my fault, she was sound asleep and I grabbed her like a trick 'r' treater grabbing king sized snickers bars in a rich neighborhood. I deserved it. Once she realized it was me she let me pick her up. But I'll tell you what; she turned around faster than a blink. It was amazing.
Has anybody started research on chewie coloration? The reason I ask is because I am starting to think that my chewies mimic their surroundings better than I originally thought. Big League chew is kept in a "darker" corner of my reptile room. In her cage, she stays pretty dark most of the time. For the first time, I took her into some sunlight on my green couch and within a minute her color matched the couch in perfect camoflauge. Also notice that when I put her on a red pillow, her reds started to show more. Yes I understand that the red accent probably tricked the eye into seeing her reds easier, but I swear the longer I had her on the red pillow, the more red came through. Her color was much different when I put her back into her cage than when I took her out. I am sure it is more than "fired up", "fired down" thing.
I see this in my 1 month old chewie as well. When the chewie is on the corkbark it matches the same exact color of the corkbark. I have trouble locating him sometime. When the gecko is on the bamboo shoot, it matches the bamboo perfectly. Two different shades of brown, two different colorations.
I might just try an experiment where I put a hatchling chewie in a tank with painted and sealed bright green and red corkbark and branches and see what happens. Do you think its worth the time to test this out?
Anyway, here are the pictures I took today. Let me know what you think!!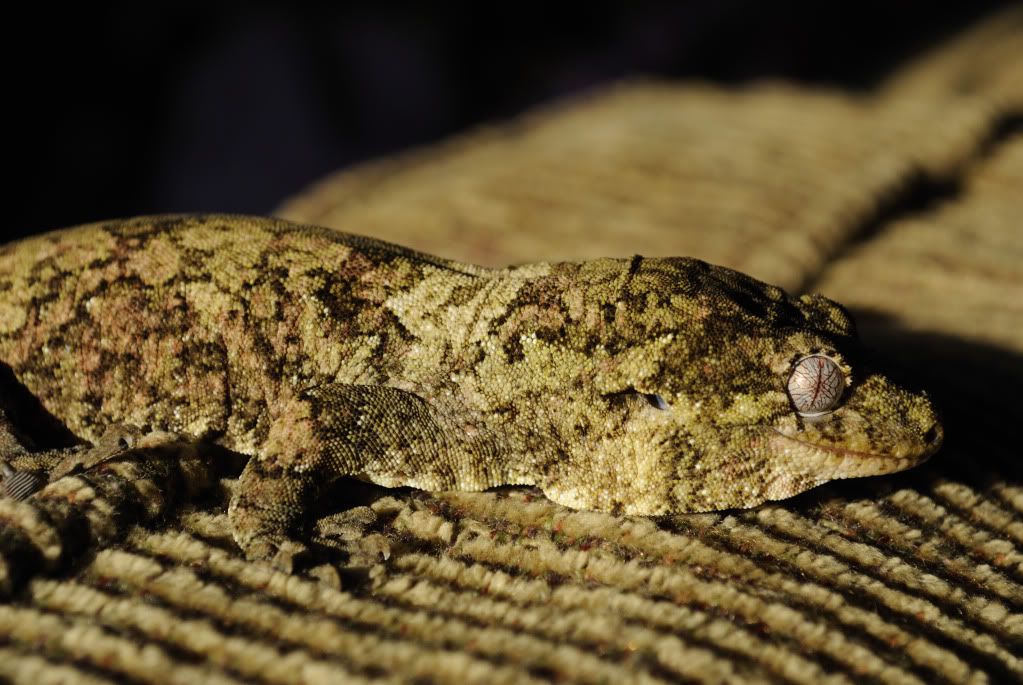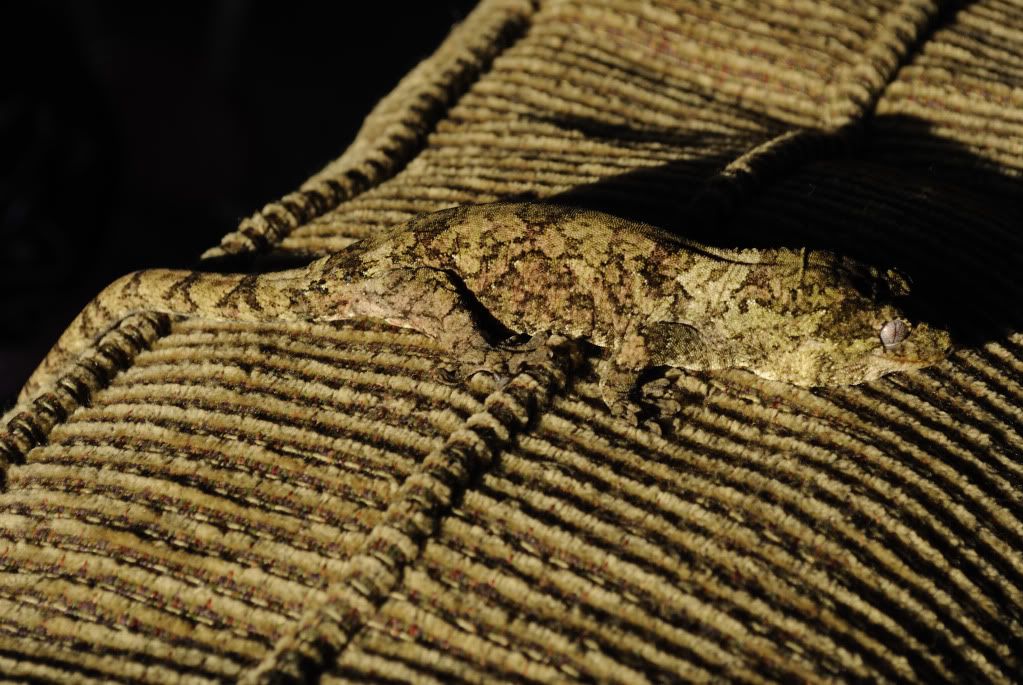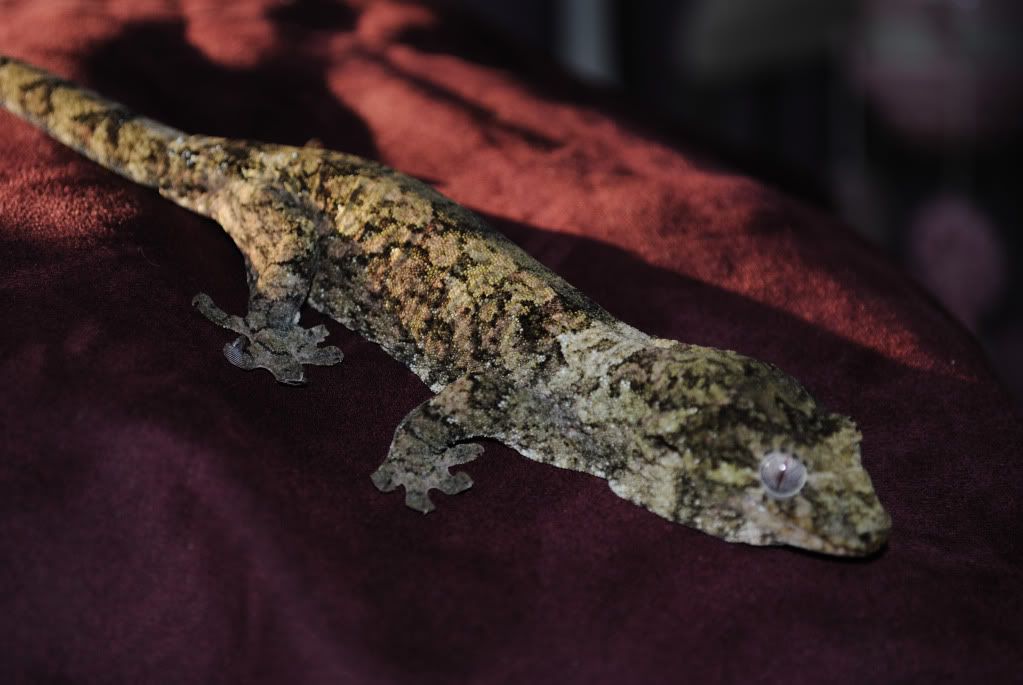 Notice the exact mimicking of the colors? They are in the same spot, same sunlight.
Now here is a picture taken 2 months ago. Notice how dark she is here? Her tank was dark and she was resting on her vine/bark. See how dark she is? This is how dark she STILL is when I first take her out. I do understand that 2 months could be a huge coloration change, but you get the idea.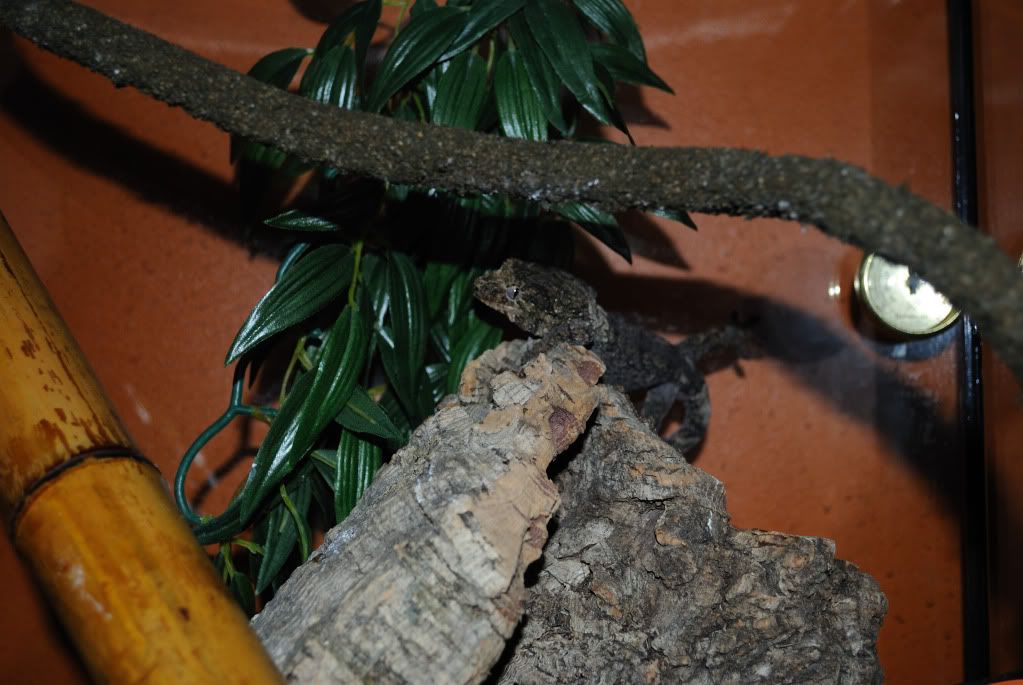 What do you guys think??