Back in August of 2008, my grandfather had passed away.
While we were staying at my Mom's to help with the arrangements and just feeling the need to be together as a family, we had a visitor to our house.
A feral black cat had torn through a screen to escape the heat, and took up residence. He was all beat up and scratched, so we treated his wounds and welcomed him to Momma Donna's Zoo and Pet Rescue.
We named him Cenobite.
He was a very frightened little guy, but with time and patience, he got to the point where he'd accept treats from our hands and allow us to pet him, as long as we didn't try to hold him or pick him up.
He was a real sweetie.
He never really got along with our other cats. They would chase him through the house and beat him up every chance they got, so he took to hiding in our storage room/extra bedroom.
I spent a lot of time patching up scratches on him and applying NeoSporin, and I felt so bad that the other cats wouldn't bond with him like the had with the others.
Yesterday, when we got home from mom's we found him laying in the middle of the kitchen floor, hardly moving, shallow breath...basically on Death's door. Not a mark on him, but he was dying.
When we went home over the weekend to feed and water everyone, he was fine. We don't know what happened or when.
We took him to the SPCA and they euthanized and cremated him, and his ashes will be scattered at the University of Buffalo North Campus rose garden-where many of our other pets are laid to rest.
We'll miss him horribly, and feel so bad that we didn't have a chance to know him better and show him that people and other cats aren't all bad. We really tried to give him a better life.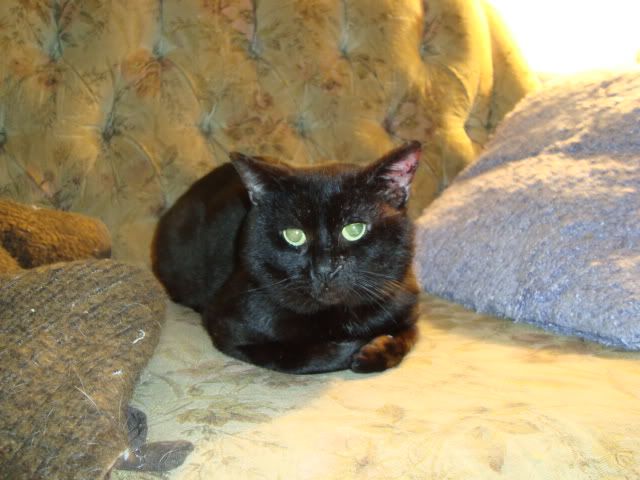 Wait for us at Rainbow Bridge, baby!!!
We love you...and we're so sorry...