So my boxer was pretty up there in age for the breed, she was 11, and as some of you know late least year and earlier this year she has had some complications. Well this morning she woke up with me (4am) which she never does, so I let her out. Took her quite awhile before she decided to come back in, I actually went out to find her to make sure she didnt wander off. She had trouble getting up the steps but she made it in. She followed me around the rest of the time I was here, wasnt sure why, I figures she hurt to much to go lay down so I just gave her some lovin pets before I went to work.
Well apparently later in the morning she just kept getting worse, then laid down and couldnt get back up. So my parents called my brother to come get her and take her to the vet. The vet said she was "going", they could fix her up but only estimated her to live for about another month or so. So my parents decided to put her to sleep instead of trying to make her suffer through any longer.
When I came home from work I seen her dog bed on top of the trash can and the first thing that popped into my head, Jersey was dead. I didnt know at the time, my dad told me when I walked through the door what had happened.
Although she hurt, I think the reason she spent the morning with me is because she knew she was on her way out and she wanted to say goodbye to me.
She was a good dog, we had her for 9 years, she was a rescue. And I know this sounds funny, but I even think Verde knows, he seems more somber today and I know he really enjoyed her company (he sometimes calls her name and whistles for her to come over to his cage).
I am sad, but not as sad as I thought I would be. Possibly because one, I wasnt the one taking her to the vet and signing the papers. But also because I got to say goodbye to her this morning, which I am glad I did. But at least is in a better place now and isnt in pain anymore.
Her cute "pewww daz stinky!" face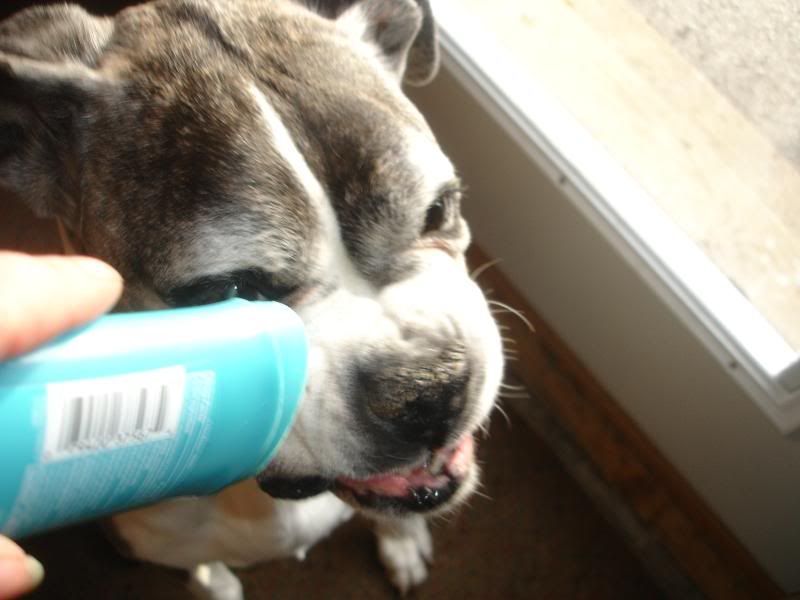 And my fav pic of her, one day we were alone in the house and she just wanted so badly to be by me, and with her bad arthritis she couldnt get up on the bed well. So I picked her up and put her up there, so she hung out with me that day while I folded laundry and cleaned my room. She fell asleep and looked so peaceful.