So, I thought both eggs had gone bad...found this little miracle in the incubator late yesterday: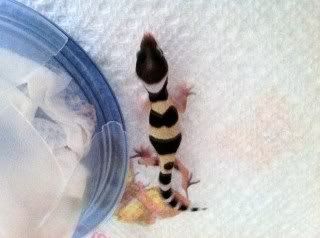 Egg started denting, getting squishy and looking strange two weeks ago. Couldn't candle it because of discoloration of the egg. I was absolutely positive it was dead and even posted in my rant that both eggs had died. Almost tossed it Monday night but just couldn't. Even had the egg in my hand and couldn't do it; kept hearing "incubate til there's no debate" (thank you Mardy from the leo forum!) in my head and returned it to the incubator.
It is from a Giant Stripe Tremper Albino x a Bold Tangerine Tornado (Tangerine Tornado X Bandit) het for Tremper. I have no idea what it will turn out to be but it is the cutest little thing ever! We have had lots of crested hatchlings, but never have had leos. I know they change a lot so it will be an exciting progression.
Sire and dam:
This is my son's female who died shortly after laying the two eggs. So this baby is a very, very special baby.
Thank you for looking :0)
Lora